Glove Story: A Tale of COVID-19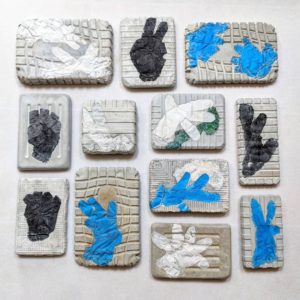 On my government mandated lockdown health-walks, I noticed a change in the local litter: fewer bottles and take-away cartons, more disposable gloves and masks. I started to photograph these finds as a way of documenting the crisis: twisted, discarded gloves on pavements and in gutters. Some looking still occupied by hands, others forming gestures or shadow puppets: All telling a story. When the rain came, the gloves were washed towards and caught up in the drainage grids. I have used these photographs as a starting point to develop mixed media works as a way of capturing the crisis.
I started by developing pieces combining manipulated textiles and cement cast in plastic packaging with suitable texture as the way the gloves are caught in the grid echoed my "No Man is an Island" series that looks at how local and individual actions have a global effect particularly in regard to plastic pollution and climate crisis. These works reflect my observations but also represent the waste of time and resources during covid19 leading to lost lives particularly the disregard for the protection of key-workers. The gloves symbolise fleeting human interaction and loss.
As my collection of photographs has unfortunately grown over the crisis, so has my series of cast panels forming a collection of both plinth based and wall mounted works. The manipulated fabric is entombed in the concrete: the disposable glove a reminder of the permanence of loss. It felt important to also respond to the tragic death of George Floyd and the Black Lives Matter protests through this series.
As lockdown restrictions eased, I was able to get back into the sculpture studio to do more intricate casting of 3D glove forms using my usual technique of combining embellished and embroidered textiles with cement cast within waste plastic. The textiles were inspired by microbiological photographs of the coronavirus. The solid mass of the sculptures signifies that although the gloves are disposable and the current crisis will pass, the ramifications of the Covid-19 pandemic will be long lasting. The fact that these form hands highlights the human toll.
Unfortunately, the new regulations requiring masks in shops, has led to a rise in the number of discarded disposable masks I am seeing. Even before this, there were reports of the amount being found in our waterways and oceans with headlines like "More Masks than Jellyfish!". I dread the ramifications on our environment. I have expanded this project to include masks.
2021
Interrupted, virtual group exhibition of Neo Artists.
Tracks & Traces, virtual exhibition curated by Air Gallery.
Alone, Together, virtual exhibition curated by Shannon Skye Robinson.
2020
The Litter You Leave: Future Fossils, virtual exhibition, Chorlton Arts Festival Hub
Runner Up (artists) OT Creative Lockdown prize 2020 + exhibition
Featured in There's No Place Like Home (2020) edited by Charlotte Rudd
So Why Not Do It Again, group online exhibition curated by Cultivate gallery