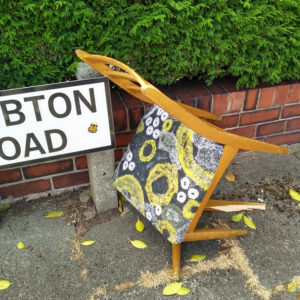 The Beached series highlights the issue of plastic pollution and how our actions effect our environment. The work combines embellished suiting with local waste either unholstered or cast in concrete. The coastal inspired textures show the waste becoming part of our landscape. Nature will fight back but it is feeling less and less like a battle it can win.
Sometimes I take a quick photograph with my phone if I liked how the litter is situated when I find it. I decided to revisit some of these spots with the resulting work and photograph them in their original location.
In returning with the art, I have been questioned by the public. Two lads were near the post office when I returned with the juice carton. I let them hold it as they were interested in how heavy it was and the texture. They also considered what kind of person would chose to place the empty carton on a ledge so close to a bin. The work has scope for community engagement to be developed beyond the gallery environment.
Photographing both the original waste and revisiting the sites has also made me consider conspicuous littering, those who have obviously considered the litter and made a decision to transform or display their waste rather than disposing of it conscientiously: even more frustrating than the thoughtless droppers. I have started collecting images under the headings: #onthefence, #doesntgrowontrees and #mindthegap.
2018
MA Show, Benzie building, Manchester School of Art.