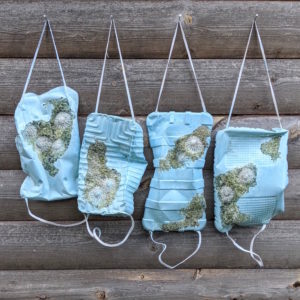 The title of this series comes from a newspaper headline proclaiming the shocking fact that there are now more disposable masks in our oceans than jellyfish. This follows on from my covid litter series Glove Story but also the ongoing Beached series.
I started photographing the discarded masks while on my government mandated health walks. The wired nose piece gave them structure even once removed. The ear elastics mage them perfect for people the hang from trees and fences like people do with dog poo bags; sometimes twisted into cocoon like forms.
Of course this time I couldn't use the actual litter to cast in for health risk reasons but also practically. Instead I chose a variety of plastic food waste trays with embossed ridges and grooves that reflected the folds in the mask. Rather than using them flat, I manipulated them to recreate the forms of the discarded used masks.
2022
Untold, Prism Contemporary Textiles Collective exhibition, Art Pavilion, Mile End, London.