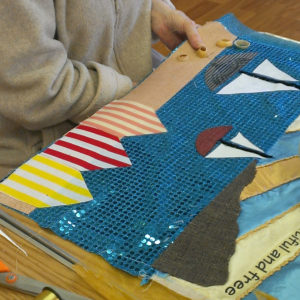 Over the course, they used poems and hymns as a starting point to create textile pictures. We made mood boards before developing the designs in pencil at full size so that they could then be used to form patterns later in the process. We made notes on them of what colour or fabric each section would be and what techniques would be best suited. We also looked at how we might use the actual words of the poems/hymns. Some chose to use the whole poem with images to illustrate it, most chose to use just a quote and one chose not to have any words in their piece but the whole of the poem was still completely there in image form. We looked at different fonts on the computer and how this changed the mood of the text which was turned into iron-on transfers. We also used both personal photos and found images to include by scanning into the computer and turning into transfers as well.
Everyone had a go at rag-rugging. We used it to create areas of dense texture to represent trees and grass. Several participants remembered their mothers and grandmothers making rugs out of scraps in this way but hadn't tried it themselves. They were surprised at how simple it really was and the main skills needed were patience and perseverance as took quite a while to build up but, particularly once the cutting of the strips was done, the rag-rugging technique itself was quite meditative and good to do while chatting or watching television.
Through the process we kept referring back to the mood-boards to remember what fabrics had initially been considered and to the designs to trace sections to create templates and to help with layout. Other skills that were used were: crazy patchwork (i.e. not repetitive motifs), appliqué using bondaweb, simple embroidery, beading and using found objects e.g. twigs for winter trees.
The end results were mounted onto simple canvases ready to be hung on a wall.
The 'Text into Textiles' project was part of a wider programme called Lucid conceived and run by Aqueous Humour, a physical theatre company based in Manchester. Lucid aimed to increase the visibility of older people through participation in the arts and public performance. The emphasis was on creativity and voice rather than just participation. Aqueous Humour were asked by Bolton@Home to develop a creative project based at sheltered housing within both Hulton and Little Lever. The residents were consulted to find out what activities they were most interested in. From this feedback we came up with 'Text into Textiles' combining creative writing workshops led by poet & playwright Cathy Crabb  and design & textiles workshops led by me.