Green Loop Project – Crafts with Recycled Plastic
Although this was done as a long project, many of the activities can be done as a half or full day workshop or even a drop in activity.
——
Over the course of four months I took a group of participants through the various stages of developing new products. The focus of the Green Loop Project was sustainability with particular focus on plastic pollution and getting people to reduce their plastic waste.
We started with research including talks from Ribble Rivers Trust and a beach clean lead by Love My Beach which was a real eye opener. We had a fabulous visit to Relic Plastic and stopped off on the way to check out existing products in a local craft gallery and a zero waste shop.
Next we experimented with fusing, weaving and sewing soft plastics and cutting and melting hard plastics; coming up with prototype products. We showcased these at the first Eco Makers Market; getting feedback from punters on styles and prices. This information was really useful when developing the range of products for the launch at the second market.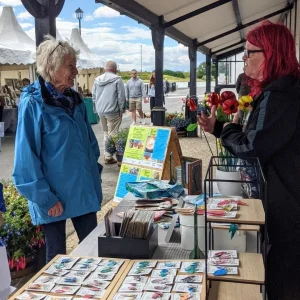 It was not practical to use beach found plastic. Instead we used domestic waste plastic, diverting it from ending up in landfill. We chose to develop three different colour-ways: Ocean; Tropical; Jubilee. We fused soft plastics to make sheets in each colour which we sewed into reusable waterproof pouches. Thicker sheets were formed to make earrings. The offcuts from both products were stitched to make unique greetings cards. Our final product was ornamental flowers made from plastic bottles and vegetable trays.
As well as making the products, the group worked with Geraldine Sawyer to develop branding and packaging designs and with Heather Chapman from Hopeful and Glorious on product photography and stall layout.
I know they were nervous about the fair, but it was great to see their confidence grow as the orders started to roll in and they felt like they belonged amongst the professionals rather than just being the community stall. Proud.