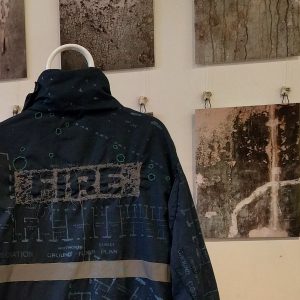 Through photography and three-dimensional textiles, I consider the beauty, value and purpose of the old and discarded. I work with used materials, particularly clothes. Serendipity led me to a mountain of decommissioned fire-fighter uniforms while researching at Rochdale Fire Museum. Deconstructed & treated with different types of print and stitch, it celebrates the range of public interest in London Road Fire Station: the architecture, the memories and the poetry of decay.
De/construction (2018):
A series of 3 pieces made from a deconstructed, decommissioned fire-fighter jacket.
Plans: screen-printed with old ground plans from the archives, embroidered with elements from the redevelopment proposal.
If Walls Could Talk: photos from the archives and past residents, embroidery inspired by the flaking paint and progressive mould of the walls.
Papering Over the Past: Inspired by how wallpaper curls and folds over time, revealing old patterns underneath. The lining is a digital copy of wallpaper found in London Road.
Thanks to Jenny Walker for leading this project and organising access to this iconic Manchester landmark as we were privileged to be able to explore and photograph areas beyond those on the public heritage tours. Jenny has been recording interviews with past residents and employees onsite to help inspire the memories and get their reactions to how it is now. These recordings have given an added dimension and richness to the project.
Thanks to Bob and Les for access to the archives at Rochdale Fire Museum and first hand insights.
2018
London Road Project exhibition, Plant Noma, Manchester.
TIME, joint exhibition with Simone Frater-Russell, Arc gallery, Stockport.
Beautiful work from all, capturing the forgotten history and its beauty. Particularly a fan of the jackets, fantastic thought provoking pieces. More like this please! Visitor, Plant Noma