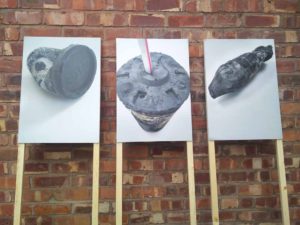 Several exhibitions on this month and a few group shows opening next month:
Artist for September for Art in Windows project in Liverpool showing work from my Beached collection.
Location: 5 Bold Place, Liverpool, L1 9DN
Dates: Monday 2nd Sept – Sunday 29th Sept 2019 24/7
–
Artist of the Month for September, Buy The Kilo, no.3 The Sidings, Tynemouth Station, Tyne & Wear, NE30 2TF.
Open: Wed- Fri 10-4.30pm Sat & Sun 10 – 2pm.
–
"Terra & Tide" group online exhibition curated by Envision Arts. Winner of Best in Show.
–
My work with Proud & Loud Arts features in the "Staging Places" exhibition at the V&A in London. Opening Tuesday 23rd July 2019 until Sunday 29th March 2020
Upcoming Exhibitions:
"Waste of our World" group exhibition at Rathbone Gallery, 28 Argyle Street • Birkenhead • Merseyside • CH41 6AE. Exhibition opens Saturday 5th October until Saturday 30th November 2019. Open Tuesday to Saturday, 2.00 – 5.00pm. Preview evening Friday 4th October, 4.00 – 7.00pm
–
Prism Contemporary Textiles Collective "Fragility" exhibition at Royal Birmingham Society of Artists (RBSA) from 8th-19th October 2019. Opening times: Monday to Friday 10.30am-5.30pm Saturday 10.30am-5pm Sunday 1pm-5pm. Address: 4 Brook Street Birmingham B3 1SA.
–
Selected for Bankley Open, Bankley Studios, Levenshulme, Manchester M19 3PP.
Exhibition Private View and Awards Ceremony: 18th October 2018, 6-9pm
Exhibition continues every Saturday until 2nd of November, 12-4pm