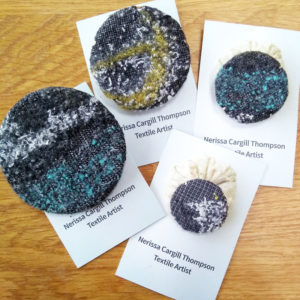 Ding Dong Merrily in High, it's time for Christmas shopping. Some of my small textile pieces and crafts are available around Manchester if you are on the hunt for something handmade and unique for a loved one or your Secret Santa. Here's a list of what's available and where:
Arc Gallery in Reddish are currently stocking Fabric Apples, Fabric flowers, small mounted textiles and A3 photo posters. Open 10-4pm Wed – Fri until 21st Dec plus on Sat 1st Dec 11-3pm during Other in Mother event.
Marketplace Gallery in Stockport will be stocking textile brooches. Open Thursday – Saturday 10-4pm until Christmas.
I will be at A4 Studios/Air Gallery Festive Fundraiser in Altrincham on Sunday 2nd Dec 10-4pm selling my wares in person plus bargain box of older leatherette brooches and festive decorations.
Next week I will add remaining stock to browse in an album on my Artist's Facebook page if would like to buy direct but feel free to contact me if you already know what you are interested in.