Christmas Banners & Installation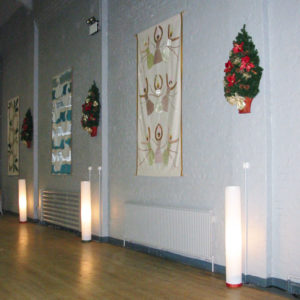 Pyramid Arts Centre, Warrington
The brief was to design something traditional for the main hall and something more modern for the foyer, landings and windows.
I chose to create banners representing the 12 Days of Christmas in a collage of fabrics for the main hall. I designed simple images for the glass lift doors, windows and reception which were cut from lighting gel to resemble stained glass.
I also made a series of white cones of various heights lit from within by white or coloured fairy lights. These were used to dress the foyer and landings. I made tall cylindrical lights from the same material for the main hall.
The wreathes were made by a local florist.