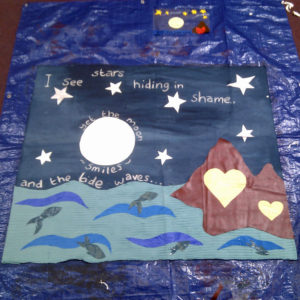 42nd Street is a charity that works with young people dealing with stress & mental health issues. In 2011, they moved into a new building that had been especially designed for them.  I was commissioned to create various artworks for their new building using designs by the young people as a starting point including fabric wall hangings for the interview rooms. 
I visited the group while they were on residential at Bowley Scout camp. We looked at ideas for the interview rooms. They revealed that sometimes there is a need for a calming space but at others, they want something more fun to lift their mood. We discussed how 'calm' and 'zany' can be interpreted visually and created designs on acetate along these themes and displayed them on the window. We looked at what mood each design said to us before asking the person who designed it what their intentions were. It was interesting how mixed the responses were and showed the fine line in design interpretation; how the same shape but in a different colour can say something very different.
We also looked at sensory ideas for the Disabled Meeting room. In follow up workshops, the group made flowers from a range of fabrics with different textures in bold contrasting colours. These were attached to a grassy rug with some additional bought items such as bath scrunchies and finger puppets to create a very bright tactile wall hanging. Some of the flowers were also attached to furry green cushions to be used elsewhere in the building to connect the spaces and give a feeling of life & growth.
I also created the two chairs for the foyer in response to ideas that came out of the sessions. One is covered in maps representing the places and journeys that are very real & important to the young people. In contrast the other is pure fantasy.
This work has been created as part of the Planet Art project that was funded by The Paul Hamlyn Foundation and has been a partnership between 42nd St and box of frogs.